This is the research paper that I wrote during Literacy class on Unit 4, Ancient Civilization. I hope you enjoy and simultaneously learn about all the incredible Greek god mythology and the personality of the god.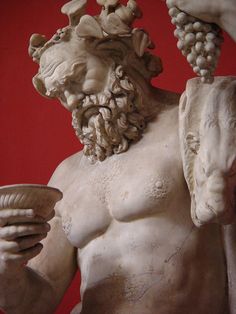 DIONYSUS
God of Wine and Grapes
Gender: Male
Rule Over: Grape Harvest, Wine Making, of Ritual Madness, Religious Ecstasy, and Theater
Names: Acratophorus, Acroreites, Adoneus, Aegobolus, etc.
Consort: Ariadne
Dionysus is one of the last Olympian gods who was best known as the god of viticulture, fertility, and drama in ancient Greek religion and mythology. He was worshipped in the early 1500-100 BC by Mycenaean Greeks. Although it is uncertain where Dionysus' cult originated, he is often depicted as having foreign origins in the Legend. Most of the time, Dionysus was referred to as "Bacchus."
Throughout Greek mythology, there are many remarkable stories about him as a child and in his adulthood. There was his unusual birth to his journey of rescuing another princess, and the stories with other main gods and goddesses. The journey of Dionysus was filled with happiness, devastation, jealousy, hypocrisy, and regret.
Dionysus married a princess named Ariadne who was from another kingdom and they had four children: Oenopion, Thoas, Staphylos, and Peparethus. In addition, he had many family members, including his parents, Zeus and Semele. He had a lot of siblings – a total of 14 – who are included in the following table:
Ares

God of war

Athena

Goddess of wisdom and military victory

Apollo

God of many things (

music, poetry, art, oracles, archery, plague, medicine, sun, light, and knowledge)

Artemis

Goddess of hunt

Aphrodite

Goddess of love, beauty, and eternal youth

Hebe

God of youth

Hermes

Messenger of the gods, god of trade, thieves, travelers, sports, athletes, border crossings, guide to the Underworld

Heracles

God of strength, heroes, sports, athletes, health, agriculture, fertility, trade, oracles and divine protector of mankind

Helen of Troy

The most beautiful woman in the world who was married to King Menelaus of Sparta

Hephaestus

God of fire, metalworking, stone masonry, forges, the art of sculpture, and blacksmiths

Perseus

The legendary founder of Mycenae

Minos

The first King of Crete

The Muses

Goddesses of literature, science, and the arts

The Graces

Goddesses of charm, beauty, nature, human creativity, and fertility, together known as the

Charites
Dionysus Mythology
Dionysus was the son of Zeus, the god of thunder, and Semele, a human; he is the only god who had a mortal parent. Late at night, Zeus went to Semele, the princess of Thebes. She could see his physical appearance, but she could feel Zeus' divine presence. Semele felt pleasure and was pleased to be a lover of the god, even though she had no clue which god it was. Later on, Semele became pregnant. The fact that Semele was pregnant was heard by Hera, the goddess of women, marriage, family, and childbirth. She was also designated as the "former" wife of Zeus. Out of jealousy, Hera went to Semele and planted seeds of doubt into Semele's head, which made her doubt her husband's appearance. When Zeus visited her again, Semele demanded he grant her a request at the River Styx. Afterwards, she asked Zeus to reveal his true form. Zeus was feeling struggled, but he decided to show her anyway. At that moment, Semele was burnt down to a crisp due to the power of Zeus's glory.
However, Zeus was able to rescue the fetus of Dionysus inside Semele's stomach. He stitched the fetus inside his thigh until it was born. Once Dionysus was born, he was instantaneously conferred as an immortal god. But Hera was jealous of the fact that Dionysus was still alive. Therefore, she ordered Titans, the deities who preceded the Olympians, to kill him. But, his death did not last; right after Dionysus's death, Rhea, Zeus's mother, brought him back to life. Dionysus was eventually raised at Mount Nysa by Hermes.
The Discovery of Wine/ The Wandering of Dionysus
During his childhood at Mount Nysa, Dionysus discovered grapevines. After he received the infliction of madness from Hera, he started to wander around the world. He went to Aigyptos (Egypt) and Syria with the main purpose of distributing his culture of grapevines. During his journey, he was confronted with many obstacles in many different places.
Once Dionysus was confronted by pirates while he was walking back to his home place, Thebes. The pirates saw his appearance as a young rich man. Then, the pirates besieged him and brought him to their ship. The crew tied a rope around his body, but it kept falling apart. After many tries, the crew realized that Dionysus was a god because only the gods had this kind of superpower. The helmsman thought that he should release Dionysus, but the sailor did not obey. Instead, the sailor started to sail the ship. Unfortunately, the ship did not move and it started to overgrow with vines. Dionysus then transformed himself into a lion and began to chase all the crewmen. Afterward, he transformed himself into a dolphin and leaped overboard.
Midas and the Touch of Gold
Another myth describes the story of Dionysus finding out that he lost his schoolmaster and foster father, Silenus. Silenus was a drunken man who had a strong addiction to alcohol. He wandered around until one day he was found by some peasants. They brought him to the kingdom of King Midas. He was welcomed and fulfilled with many foods and entertainment for ten days. On the eleventh day, King Midas brought Silenus back to Dionysus.
Dionysus felt pleasure and gratitude to King Midas. In return, he offered Midas his choice of whatever he wanted. King Midas decided that whatever he touched, it must be turned to gold. Dionysus was feeling conflicted with giving him the offer, thinking he should make a less greedy choice. But King Midas was really enthusiastic about his new power. He touched oak twigs and they turned to gold. Overjoyed, he ordered the servants to bring him food, but when he touched the food, everything turned into gold. Midas was really depressed; he regretted the decision he made. He begged Dionysus to take back the offer. Dionysus told him to wash his hands in the river Pactolus. Once his hands touched the water, the whole river turned to gold.
Known also as the god of theatre, Dionysus had love relationships with many gods and goddesses. This means he was also a god of homosexuality (Homosexuality; Effeminacy; Cross-dressing). His first love was with Aphrodite; they were believed to have had a son named "Priapos." In contrast, there is a myth in which Aphrodite is the lover of Zeus, which triggers Hera's jealousy. In revenge, Hera turns their son, Priapos, into an ugly character.
His next lover was the daughter of Thestius and wife of Oeneus, Althaea. They had a great relationship and had a daughter named "Deianeira."
Afterward, Dionysus had a long-term relationship with a mortal lady, Ariadne. She was the princess and the daughter of King Minos of Krete (Crete). Unluckily, when she was visiting the island of Naxos, Theseus, the guard, abandoned her while she slept. Then, Dionysus discovered Ariadne. They married and ended up having four children: Oenopion, a legendary king of Chios who best known as "wine drinker"; Thomas (Unknown); Staphylos, one of several personages; and Peparethus, a demigod son.
Symbolism and Attributes
Dionysus had many symbols and attributes throughout Greek culture. The most distinctive attribute of his was the "Thyrsos," a pine-cone-tipped staff. The pine cone represented birth. The Thyrsos was actually an object for Dionysus and followers to carry for enjoyment and comfort. It had a significant role of representing birth because Dionysus was also the god of fertility and would use it to stir the wine.
The other symbols and attributes of Dionysus were the Thyrsos-staff head, grapevines, drinking cup, and his wreath made out of ivy leaves. Specifically, the grapevines symbolically represent his association with life. The grapevine is a cultivated plant and the stages of grape vines represent Dionysus's death and rebirth. The drinking cup represents the object holding the liquid of life. As mentioned earlier, Dionysus uses the Thyrsos to fill the cup with wine.




Dionysus also had his sacred animal, a leopard, as his transportation. Most of

the time, he was depicted as a character who was sitting on the leopard or had leopard-skin apparel on his body.
General Information
What was Dionysus god of?
In Greek mythology, Dionysus was not only the god of grapevines and viticulture. As mentioned above, he was also the god of fertility, theatre, and homosexuality, but there is even more – he was a god of many things:
Wine, Fruit, and Drunkenness

Parties and Festivities

Madness and Insanity

Wilderness vegetation and predators (big cats)

Reincarnation and Afterlife (He had the ability to bring the dead back to life from the Underworld. He once traveled to the Underworld to bring his mother's soul, Semele, back to the earth.)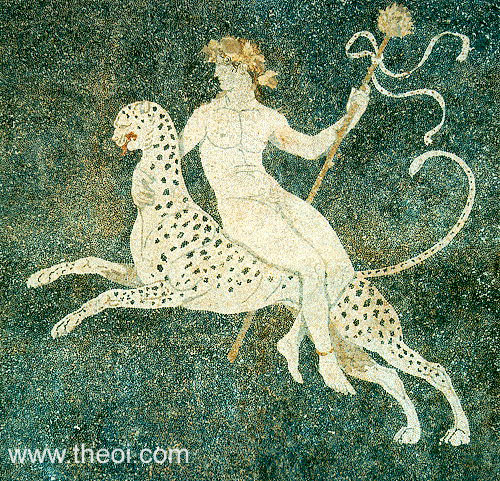 Dionysus was mostly depicted as a powerful and strong man. His appearance was usually seen as a young man imposed with a full head of dark hair and wearing a beard; sometimes, he was beardless. He had a wreath of ivy leaves on his head and he would hold the Thyrsus in his hand while riding on the leopard. To achieve his standard look, he was usually naked, but sometimes, he would put on his leopard-skin clothes.
Dionysus could be found at Mount Olympus, the highest mountain in Greece. It was also where his father lived. In addition, Mount Nysa was his home and was where he was raised as a child. There is a feeling of uncertainty about whether Mount Nysa really exists or if it is just a mythical, geographical location in Greek mythology – there is no real answer.
As Dionysus was of the god of nature, his temple or theatre is located everywhere around us. The theatre symbolically represented his expression, duality, nature, and cultivation. Additionally, Dionysus could be found in the woods because he was the god of nature and his followers worshipped his cult in the woods while other gods had their own temples.
Contemporarily, there are some festivals and celebrations celebrating Dionysus. One celebration is called the "City Dionysia" or "Great Dionysia." It is usually celebrated in the late March through early April, in Greece. During the festival, Greeks sing and dress up. Also, they sacrificed many goats to honor the gods. A large amount of wine is consumed in the celebration. On the first day of the festival, people carry the statue of Dionysus from the temple to the Theatre. Contestants compete with each other's performance of their plays until they find a winner. This festival is commonly celebrated for three days.
There are also other festivals including the Lessor or Rural Dionysia, the Anthesteria, the Lenaea, and the "Dirty Monday." "Dirty Monday" has been celebrated for many centuries if not millennia. It is held in Tyrnavos, Greece. The celebration is to honor the worship of Dionysus. Annually, on "Ash Monday," the city is packed with participants, spectators, and tourists.
Conclusion
Dionysus was the only god who was expressly known as the god of grapevines, viticulture, and drama. He is mostly described as a drunken, selfish, bold, and patient man. His symbolisms are perfectly matched with our contemporary cultivation of grapes and winemaking. In addition, Dionysus is an immortal god who was born from his father's thigh. Uniquely, he was the only god with a mortal parent and had the ability to bring the dead back to life. Overall, his journeys throughout the world made many people learn from their mistakes and offered a multitude of moral lessons.
Works Cited
DIONYSUS : Summary of the Olympian God, www.theoi.com/Summary/Dionysos.html.
Bacchus – Roman God of Wine – Crystalinks, www.crystalinks.com/bacchus.html.
"ARIADNE." ARIADNE – Greek Goddess Wife of Dionysus (Roman Libera), www.theoi.com/Georgikos/Ariadne.html.
Britannica, The Editors of Encyclopaedia. "Dionysus." Encyclopædia Britannica, Encyclopædia Britannica, Inc., 7 Feb. 2018, www.britannica.com/topic/Dionysus.
"DIONYSOS LOVES." DIONYSUS MYTHS 4 LOVES – Greek Mythology, www.theoi.com/Olympios/DionysosLoves.html#Aphrodite.
"DIONYSUS – Greek God of Wine & Festivity." Theoi Greek Mythology, www.theoi.com/Olympios/Dionysos.html#Attributes.
"Dionysus." Greek Mythology, www.greekmythology.com/Other_Gods/Dionysus/dionysus.html.
"Dionysus." Dionysus ***, www.talesbeyondbelief.com/greek-gods/dionysus.htm.
"Dionysus • Facts and Information on Greek God Dionysus." Greek Gods & Goddesses, greekgodsandgoddesses.net/gods/dionysus/.
"Dionysus, the God of Wine, Fertility and Theater." Symbols and Their Meanings – Mythology and Gods – Mythical Creatures, 12 Jan. 2018, mythologian.net/dionysus-the-god-of-wine-fertility-and-theater/.
"Dionysus, the Greek God of Wine in Greek Mythology." Greek Gods, www.greek-gods.info/greek-gods/dionysus/#dionysus-symbols.
"The Festival of Dionysus: The Origins of Ancient Greek Theater." Bright Hub Education, 6 Jan. 2012, www.brighthubeducation.com/homework-help-literature/64195-festival-of-dionysus/.
"Greek Mythology." Ducksters Educational Site, www.ducksters.com/history/ancient_greece/dionysus.php.
"Greek Myths: Have You Met Dionysus, God of Wine?" TripSavvy, www.tripsavvy.com/greek-mythology-dionysus-1525977.
"Greek Stories about Dionysus-Midas and the Touch of Gold." Greek Gods, www.greek-gods.info/greek-gods/dionysus/myths/midas-touch-of-gold/.
"Symbols and Icons of Dionysos." The Dionysian Artist, 25 Oct. 2016, dionysianartist.wordpress.com/2016/10/24/symbols-and-icons-of-dionysos/.
"The Wanderings of Dionysus." Greek Mythology, www.greekmythology.com/Myths/The_Myths/The_Wanderings_of_Dionysus/the_wanderings_of_dionysus.html.
"Dionysus (Bacchus, the Wanderer)." Dionysus, God of Wine, Festivals and Pleasure, the Wanderer – Greek Gods, www.greek-gods.org/olympian-gods/dionysus.php.